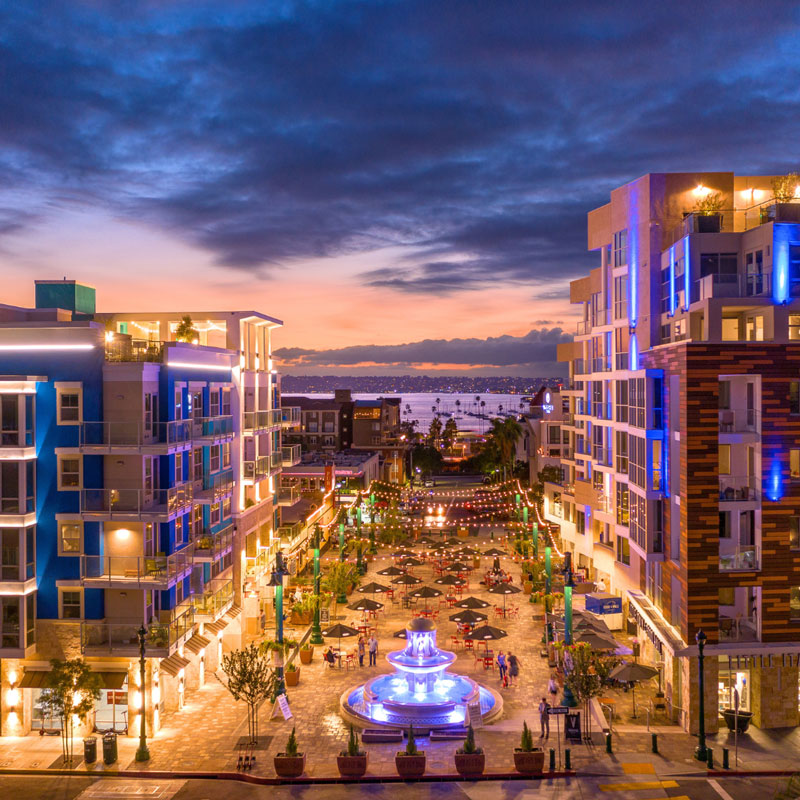 H.G. Fenton Company's Vici Project Garners Grand and Merit Golden Nugget Awards
In a recent virtual celebration, Pacific Coast Builders Conference (PCBC) honored H.G. Fenton Company's Vici Luxury Rentals, located in the Little Italy neighborhood of San Diego, with the Grand Award for Best Mixed-Use Project. Vici also walked away with two Merit Awards for Best Indoor/Outdoor Lifestyle and Multi-family Community of the Year categories. Vici opened in 2018 and has earned nods from the industry, the community, and its residents for creating an energetic lifestyle experience as a result of the project and the Piazza della Famiglia.
Vici apartment homes are designed to provide a luxurious European-inspired lifestyle. Upstairs, the seventh-story Vici rooftop has sweeping views of the San Diego Bay and shimmering downtown skyline, and has been designed with al fresco entertaining in mind. Residents enjoy an outdoor gourmet kitchen, fire pit and cocktail lounge, an outdoor jacuzzi spa and a yoga deck. Around the corner, pet pampering is also taken to the next level with a rooftop pet spa and dog park.
Residents step outside the lobby door onto the bustling Italian Piazza della Famiglia complete with restaurants, a food hall, cafe tables and weekly farmers markets. "While Vici is an apartment community unlike any other, it is the integration of the restaurants, piazza, and all of the design features that make this a magical place," said CEO Mike Neal. "We are humbled and appreciative to the PCBC for recognizing the hard work of our Fenton team and all those that worked so hard to make this magical place a reality."
It's been common to encounter live music, dancing, or impromptu gatherings on the piazza any night of the week.  While some of those activities have had to take a pause in 2020, the Piazza della Famiglia continues to provide a place for residents and the community to come together safely in a lively al fresco dining scene with plenty of space between tables. "We're grateful for being embraced by the Little Italy community to bring their dream of a true European style piazza to life," comments John La Raia, Vice President. "With the Little Italy Food Hall expanding this year and the community utilizing open-air spaces even more right now, we're excited to see how Vici continues to go above and beyond in serving its residents and the community, meeting their needs in every possible way."
The 2020 Golden Nugget Awards honoring H.G. Fenton Company's Vici Luxury Rentals included:
Grand Winner, Best Mixed-Use Project
Merit Winner, Best Indoor/Outdoor Lifestyle for a Community
Merit Winner, Multi-family Community of the Year
###
About PCBC's Golden Nugget Awards
PCBC's Gold Nugget Awards were announced in a virtual awards presentation on July 24th. Honoring the top innovators in design, planning and development, the competition is open to builders, developers, architects, interior merchandisers/designers, and land planners with communities and projects across the United States and internationally.