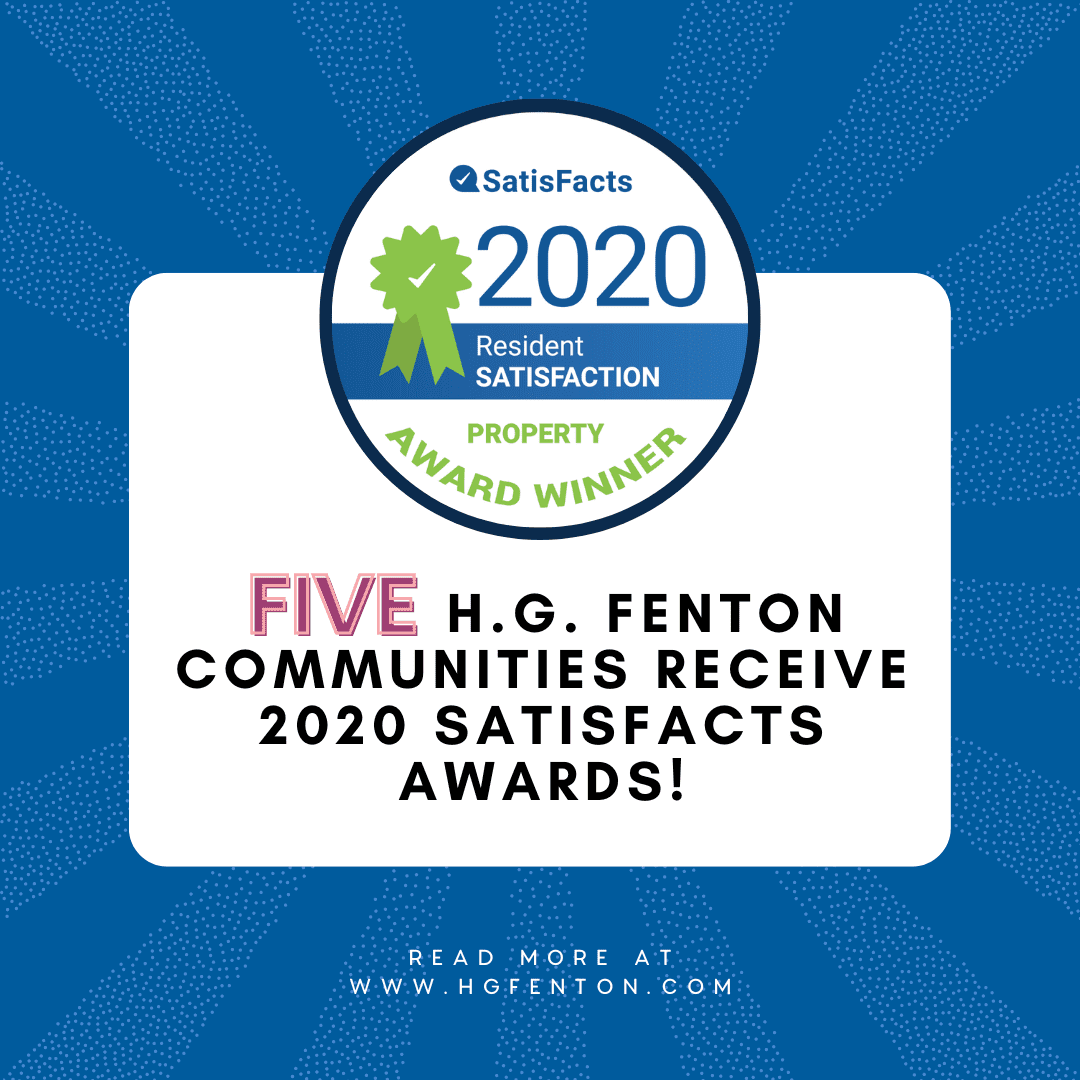 Resident Experience Shines as Five H.G. Fenton Company Communities Earn Satisfaction Awards
SAN DIEGO (February 22, 2021) – For the 19th consecutive year, H.G. Fenton Company has earned the National SatisFacts Resident Satisfaction Award. Five of H.G. Fenton Company's communities were awarded Insite® Survey Property Awards for the 2020 survey year, a year that saw many challenges caused by the COVID-19 pandemic. Resident Satisfaction Awards are earned entirely on the basis of direct feedback from residents.
The H.G. Fenton Company communities awarded SatisFacts Insite® Survey Property Awards in 2020 are:
"H.G. Fenton Company's purpose-driven focus on resident experience was even more meaningful this year as we navigated the impacts of the COVID-19 pandemic," said Alex Winborn, H.G. Fenton Company's Vice President of Residential Operations. "Having employees who are driven by our values and put our residents' experience first helped us continue to provide the excellent service reflected in the survey results throughout the pandemic, and we'll continue to rely on those same values as we move forward."
National Resident Satisfaction Awards winners maintained a SatisFacts portfolio score of 4.0 or above (out of 5), based on customer survey completions in 2020. Surveys evaluate residents' collective experience throughout the year including move-in, maintenance, and overall experience.
H.G. Fenton owns and manages 17 residential communities throughout San Diego County. Recent projects include the award-winning Vici and Amo communities in the heart of Little Italy. In 2020, H.G. Fenton Company opened their newest mixed-use development, BLVD, comprising of 165 apartment homes above approximately 4,000 square feet of ground floor restaurant/retail space in San Diego's North Park neighborhood. Currently under construction, TRU Bankers Hill is a new apartment community opening Summer 2021, providing housing and retail in close proximity to beautiful Balboa Park.
About SatisFacts
The National Resident Satisfaction Awards recognize multifamily management companies and communities across the United States and Canada that provide an extraordinary living experience to their residents, evidenced by superior resident satisfaction and retention rates as measured by SatisFacts Insite® and Annual survey scores. For more information, see: www.satisfacts.com.
About H.G. Fenton
H.G. Fenton Company, a family-owned San Diego real estate company, has proudly entered its second century of service providing quality working and living experiences through responsible development and management practices. H.G. Fenton Company creates lifestyle opportunities where employees flourish, residents live well, and businesses succeed for over 1,100 businesses, and across 17 apartment communities totaling over 3,500 homes in San Diego County.