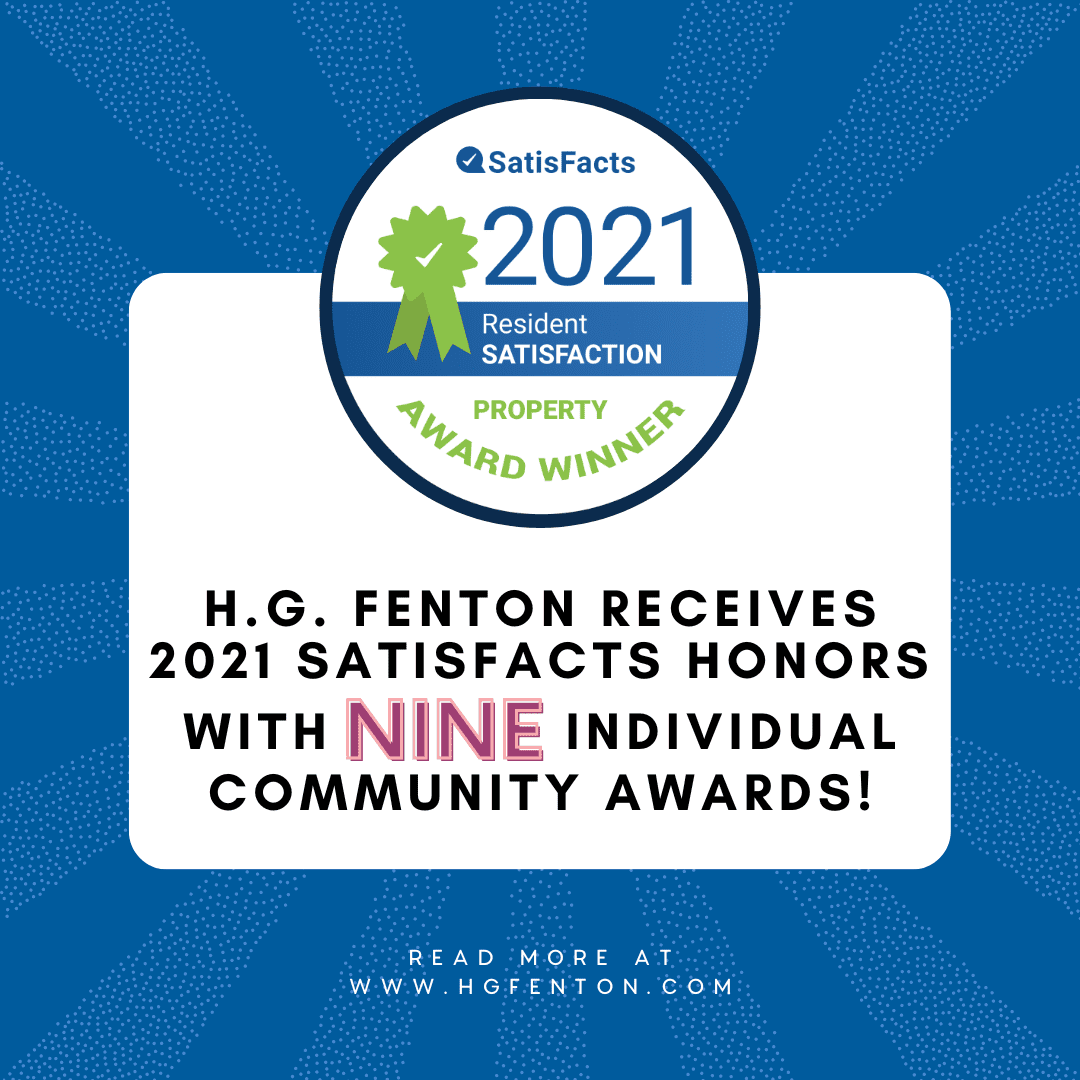 Residents Give Highest Marks to H.G. Fenton Company for Providing a High-Quality Living Experience
H.G. Fenton Company Garners Nine National Satisfaction Awards as Residents Tout Superior Living Experiences.
SAN DIEGO (March 7, 2022) – For the 20th consecutive year, H.G. Fenton Company has been nationally recognized with the National SatisFacts Resident Satisfaction Award for providing residents with extraordinary living experiences at communities across San Diego County. Nine of H.G. Fenton Company's communities were honored with 2021 ApartmentRatings Top Rated Community Awards and the Company was also awarded Insite® Survey Property Awards for the 2021 survey year. Resident Satisfaction Awards are earned entirely on the basis of direct feedback from residents.
H.G. Fenton Company communities awarded Top Rated Community Awards in 2021 include:
Bella Del Mar Apartments
BLVD North Park
Club River Run Apartments
Creek View Condominium Rentals
El Dorado Hills Apartments
Evening Creek Condominium Rentals
Portofino Apartment Homes
Seagate Condominium Rentals
Urbana East Village Rental Flats
"H.G. Fenton Company is honored to celebrate the positive resident experience that is recognized by ApartmentRatings with our employees who help make it all possible," said Alex Winborn, H.G. Fenton Company's Vice President of Residential Asset Management. "We are dedicated to providing exceptional lifestyle opportunities for our communities and residents, and we look forward to continuing the meaningful work of creating quality homes for San Diegans."
National Resident Satisfaction Awards winners maintained a SatisFacts portfolio score of 4.0 or above (out of 5), based on customer survey completions in 2021. The surveys evaluate residents' collective experience throughout the year including move-in, maintenance, and overall experience.
H.G. Fenton owns and manages 18 residential communities throughout San Diego County. Recent projects include the award-winning Vici and Amo communities in the heart of Little Italy. In 2021, H.G. Fenton Company opened their newest mixed-use development, TRU Bankers Hill, providing housing and retail in close proximity to beautiful Balboa Park, featuring 75 residential units in a mix of studios, one-bedroom apartments, and two-bedroom townhomes.
About SatisFacts
The National Resident Satisfaction Awards recognize multifamily management companies and communities across the United States and Canada that provide an extraordinary living experience to their residents, evidenced by superior resident satisfaction and retention rates as measured by SatisFacts Insite® and Annual survey scores. For more information, see: www.satisfacts.com.
About H.G. Fenton 
H.G. Fenton Company, a family-owned San Diego real estate company, has proudly entered its second century of service providing quality working and living experiences through responsible development and management practices. H.G. Fenton Company creates lifestyle opportunities where employees flourish, residents live well, and businesses succeed for over 1,100 businesses, and across 18 apartment communities totaling over 3,500 homes in San Diego County. For more information, visit https://www.hgfenton.com/.